Over the last few years I've watched lots and lots of old, black and white British films. I was going to say 'so you don't have to' but I imagine very few people would be remotely interested in them anyway. There is a channel over here in Blighty called Talking Pictures TV which tends to broadcast mainly British films from the forties, fifties and sixties and a few from the seventies and thirties and even the odd early eighties one. It shows a minority of old American films too, and there have been two or three Australian ones. Why am I doing this? Well, because modern mainstream films are unsatisfying, that's why. Lets catalogue the ways in which they undernourish (at least for me):
1) They're all American. More or less. There's nothing wrong with American films. Some of my favourites are American. I'm just bored of the foreign monoculture. TPTV is a bit of an antidote to that.2) They're bland. The industry has been financialised. They constantly iterate the same film series and are frit of anything unusual. They know Epic Film pt.6 will probably make profits. Perhaps the industry was always financialised but it's certainly getting better at it. They also pander to their typical repeat customers, who, judging by all the animations, superheroes and things being blown up are quite young. The old films can be bland too but they don't have that plastic cosmetic look.3) They have that plastic cosmetic look. You know, the women look like they've been extruded out of a machine and the men are unrealistically sleek and cool. I like craggy characters. I also like the crumbling, Victorian, industrial townscapes of films like 'A Kind of Loving'. I like some grit.4) They are becoming more and more political. I thought artists should make films, not commissars. The moral code in earlier films could be preachy too, but with much more self-doubt and with lots of holes in it. The films I cite aren't exactly paragons of traditionalist thinking. They're often socially concious and directed by liberal thinkers. I think the post-war period represents an interesting point of equalibium between the old attitudes and the new attitudes. You see both represented fairly equally in some films of the era…before social radicalism then became dominant.
So are the old black and white British films I'm watching really good? No, they're crap! Honestly, they're nearly all rubbish, or just rather boring at any rate. Lets be honest, Britian was never one of the great domains of cinematic production. A lot of them are unremarkable portrayals of coppers chasing gangsters or they are tedious conveyor belt comedies. The British rarely approached films with the artistic seriousness of the French or the proper populism of the Americans. The class system got in the way. We had stuffy old gents ensuring that British films represented their concerns (not subversive working class people) and mirrored their experiences (obeying fags in public schools or fighting thuggees in India). It sounds like I'm contradicting myself on the politics and morals in the films of the time. No, it's just that the old and new thinking—and old and new filmmakers—overlapped for a long time. Even when the class system was very faded, British filmmakers seemed a bit lost. They couldn't bring themselves to adopt either the French way or the American way. Some Merchant Ivory films were reasonable and there was Mike Leigh, but most of it was rather boilerplate. So you have to get through a lot of chaff when you watch these things. I don't recommend others take this up as a habit, for you'd soon lose the will to live. Such a tiny proportion of them are good.
Am I going to keep it up? Is it worth it? For me…and only for me, it is still worth it. Put it this way, if I hadn't got into this 'hobby' I may never have seen 'The Naked Civil Servent', a brilliant film about one of the stately homos of England. This film enlightens me on the previous life of gay people in Britain and it has a delightful patina of dishevelled empire, old British grubbiness you won't see anywhere else. And would I have got around to seeing 'A Taste of Honey' which reminded me of long forgotten idioms I once knew but which had got buried at the bottom of my brain. 'Oh the big ship sails on the alley alley oh, the alley alley oh, the alley alley oh'. Or the grittily cynical 'Look Back in Anger'? No neat, telegraphed happy ending there. These are all nine-out-of-ten films.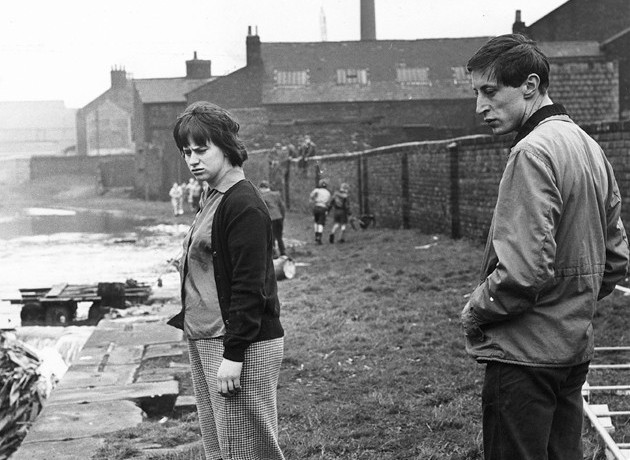 As an addendum of sorts, I should mention that the channel I'm watching shows a lot of old public information shorts and wartime propaganda shorts. Seeing these—along with reading some history and watching some documentaries—has made me realise just how socialistic Britain's civil service, local government and technocratic bureaucracy could be even that early. A type of scene I've seen several times in these short films is one where a local bureaucrat puffs on a smoky pipe, assesses the town about him and then proclaims 'We can't continue like this. When we win this war, we can't go back to this squalor. We can't ask people to toil and struggle, to have their wills bent to this immense cause for freedom as they have these last years, and then ask them to settle back into a life of dirt, poverty and disease. We must tear all this down [sweep of the arm at the old brick buildings and cobbled streets] and build a new and better world fit for new men and new women.' I am paraphrasing from memory. This could be expanded upon with stuff about Uncle Joe and stuff about poor journalism and stuff about concrete buidlings but I ought to stop.
Oh, addendum 2: I almost forgot, TPTV even show old television series. Most forgettable, but a couple were good. 'Callan' is a very cynical seventies spy series with Edward Woodward as the assasin for the British secret services who hates what he's doing but whose boss refuses to let go of him. 'For the Love of Ada' is a seventies sitcom about two bereaved pensioners starting a relationship and getting married. It's very close to being my favourite British sitcom ever…and I'd never even heard of it before.